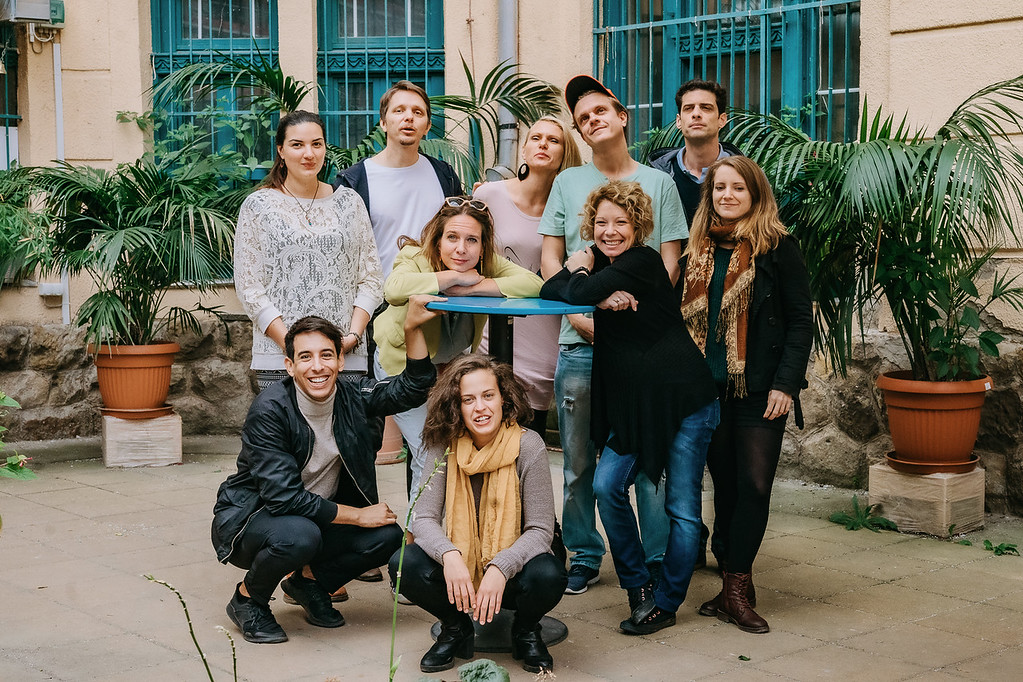 The concept of our work
The name of the organization can be translated as "Open Circle Association". Our main field of work is Theater in Education, which is a participatory theater methodology. We develop interactive theatre programs for children and young people, and training opportunities for adults. During the recent years we have been researching the possible adaptations of Theatre in Education methods for and with adult groups. We would like contribute to people's mental wellness and self-development by providing space, time and frame for meaningful sharing and experiential learning. Individual learning paths are important in our work, while we construct "commonly lived" experiences for/with the participants. Community building is an indirect impact of our activities, while we would like to strengthen the sense of community in people's lives. We use tools of drama, theatre and critical pedagogy in our activities, and adapt many other tools, always depending on the aim and focus of the activities. We have also been developing follow up and feedback methods based on already existing ones for the aim of assisting people to express their needs, thoughts and feelings about a certain process. We consider people's perception of safety crucial, therefore we always put a strong emphasis on the creation of 'safe space', where the individual can step in and learn.
Our target groups
On a daily basis we work with one school class at a time. The classes come from very diverse sociocultural backgrounds. We meet students from private schools, children from religious schools and we also meet pupils from the least developed regions. Sometimes we work with classes that count with students with special needs (eg. physical disability, visually impaired, hearing impaired, at risk of early school leaving, etc.).
On a project base we work with adults with specials needs, young people with migrant backgrounds, teachers' groups, and European young people participating in long term volunteering programs. We consider these target groups being vulnerable groups, as their situation is special in society and their wellbeing is at risk for certain reasons.
Offering training opportunities for interested professionals of education and/or drama also plays an important role in our strategy.
The process of our activities: Play. Act. Explore.
We consider our work a process of Game-Theater-Exploration, which guides the participants through an experiential activity, focusing on a particular social problem and a human story, in a safe zone. We enter into a game together that emerges to be a performative act about humanity, through which contextual learning happens, and there is opportunity for reflection. Many times the form of expression is through a creative act.
Our main activities
Theater in Education (TiE)

Drama in Education (DiE)

Trainings/workshops for community and skill building

Trainings for teachers, youth workers, facilitators

Thematic events and camps with youth groups

Applied theatre projects with international volunteers and aspiring youthworkers
The company always likes to experiment with new ways of interactions, different drama and theater forms, as well as other art tools, applying innovations of the digital age, offering children and young people programs about problems related to their age group. The topics of our performances come from classic plays, contemporary plays and other literary products, improvisations, tales, real life stories, news, songs, movies, etc.
Main projects in 2019/2020
Nyitott Kör is working with colleagues from the UK, Poland and the Czech Republic between 2019 and 2021 in a project which is called 'To be or not be well – Drama and theatre in education'.  This is about using Drama and TIE to collaborate with teachers in ways that support their wellbeing and that of children at risk of exclusion.
In October 2019 partners visited us in Budapest for 3 days to kick off the project, and in the very beginning of 2020 we hosted a joint staff training event. In the frames of the training 25 of us worked together to explore the meaning of the 'Displaced teacher' and the current situation of our education systems.
Next the partners will be visiting the UK from 12th June, including for a public event on Saturday 13th June organized by Big Brum Theatre in Education Company.
During the school year of 2019/2020 partners are preparing for 6 Encounters with a chosen group of educators locally in order to assist them in their roles and communities, tackling the topic of well-being, adapting TiE and Drama methods with and for this group. The encounters are accompanied with quality assessment and evaluation delivered by educational experts and researchers. 
The final results of the project will include a Well-being curricula, a Guidebook for implementation of the curricula, and an Impact Assessment.
We expect the main outcomes to be enhanced teachers' communities and their skills' development in order to better engage students at risk of exclusion, thus the increased need to consider the well-being of the schools (and the individuals present in the schools) crucial for learning.
The project is co-funded by the Erasmus Plus programme of the European Commission of the European Union.
The MiGreat! project brings together four educational organisations from across Europe: Giolli (Italy), Elan Interculturel (France), EFA (England) and Open Circle (Hungary). The project aims to develop positive narratives around migration, to counter the discriminatory and negative discourses that are on the rise in our national contexts. We will do this by developing new methods and upskilling our staff and wider networks through a series of trainings in creating counter narratives. Our methodology will draw on Freirian critical pedagogy, Theatre of the Oppressed, Applied Drama, Critical Incident and Community Organising. 
In November 2019 partners met for two days in Parma to kick off the project. At the end of January 2020 partner's staff  met for a joint staff training event in London to learn together about the method of Critical Incident, presented by ELAN.
Nyitott Kör is running a new group since the autumn of 2019 for young people with migrant background to facilitate language learning through drama methods called "Drama Deutsch" and in collaboration with the Austrian Institute of Budapest.
We will be hosting the next joint staff training from 30th of May until the 1st of June in Budapest, where Giolli will be presenting the method of Theatre of the Oppressed.
More information will be available here:
migreateducation.wordpress.com
The project is co-funded by the Erasmus Plus programme of the European Commission of the European Union.
We collaborate with 12 partner institutions including kindergartens, primary schools and high schools based in the Central-Hungarian region in this project for 36 months.
Altogether 216 thematic programs will take place in the project, reaching 4236 students of whom 15% will be of fewer opportunities.
The project is funded by European Union Structural Funds, the Széchényi2020 Programme, and the Government of Hungary.
Since 2013 we are hosting international volunteers for long-term projects (6-12 months). The volunteers take part in our everyday activities, play, act and explore the concepts of our work.
Currently we are hosting 3 Hungarian speaking volunteers from Romania in the frame of project What is drama?
Thanks to a new opportunity we are facilitating employment opportunities of our past volunteers in the projects SoliDrama and DramaBase.
We also implement interactive performances about the concept of the fear of the unknown in a Solidarity Project during the spring of 2020. (Félni vagy)
The projects are funded by European Solidarity Corps of the European Union.
"Applied drama for cyberbullying prevention" is an international project bringing together organizations from Poland, Hungary and Slovakia. All the organizations work with applied drama or/and applied theatre. The organizations all see cyberbullying as an important issue to work with. In this project we have developed a training module for teachers. Our specific goals were: improving teaching competences (at least 3 new techniques), expand knowledge about cyberbullying (also by reading our workbook), increasing motivation for taking part in other trainings in connection with non-formal education.We organized a test of the training module at every organization's local context, thus the three collaborating organizations implemented their training modules in the frames of a commonly organized international training event. The meeting gave us the opportunity to learn and exchange with partner organizations facing similar challenges. Besides the target group of teachers we reached youth workers and psychologists. We realized an online video about the international training that is available with Slovakian, Polish, Hungarian and English subtitles here:
https://www.youtube.com/watch?v=fJmPLbAs5ro&feature=emb_title
The project is funded by the Visegrad Fund.
Currently offered  programs:
Ropedance: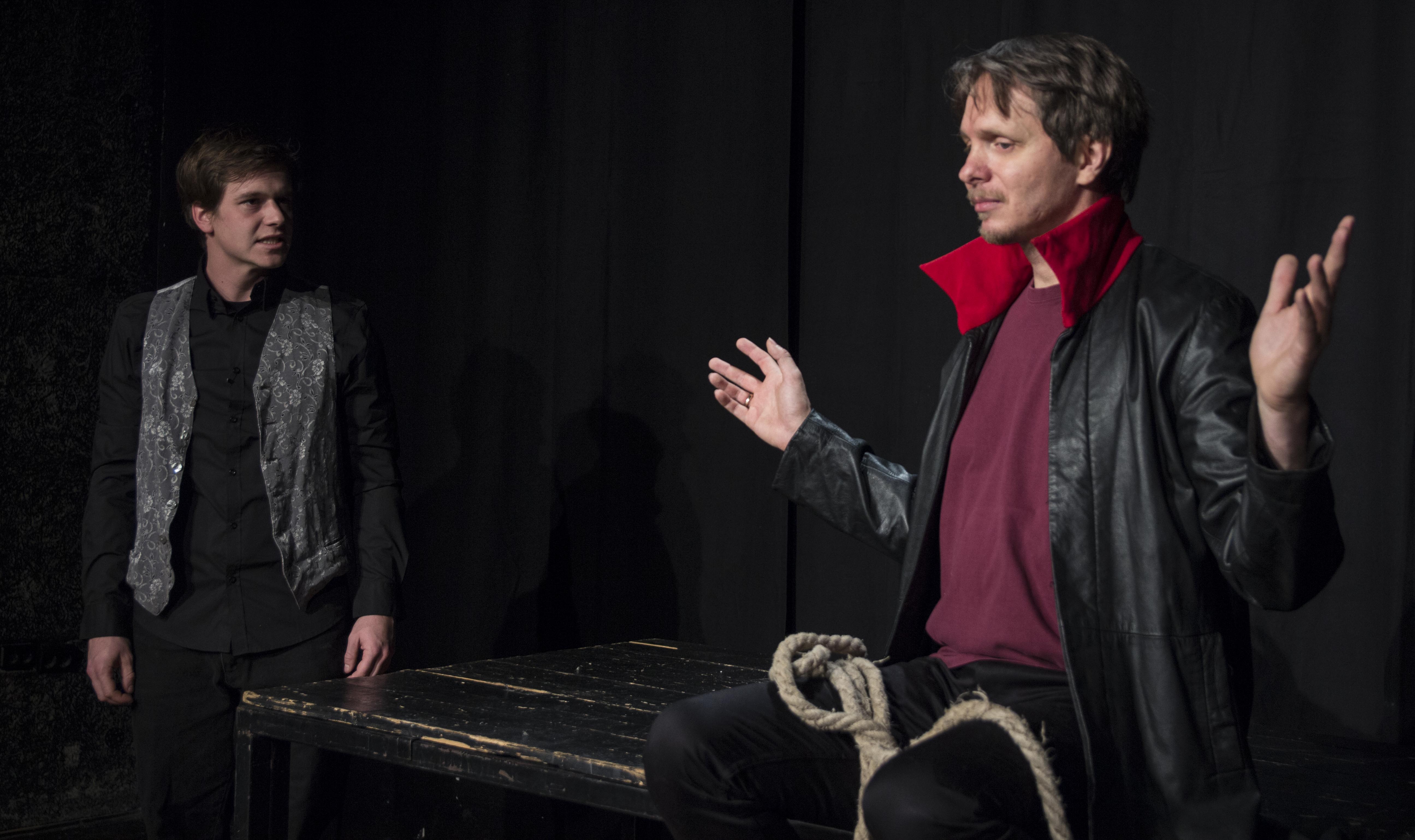 TiE about power, injustice, hierarchy based on the story of Antigone.
What is power useful for? What can we do if we face injustice?
Age group: 15-17 years old
Actor-teachers: Jelinek Erzsébet, Kroó Balázs, Meszlényi-Bodnár Zoltán, Varga Norbert, Tóth Fanni/Benedek Fanni
Director: Zsuzsa Hajós (Roundtable Theatre in Education Company)
Other collaborators: Szilvia Szeszák, Zoltán Meszlényi-Bodnár
Time frame: 180 minutes
I am myself: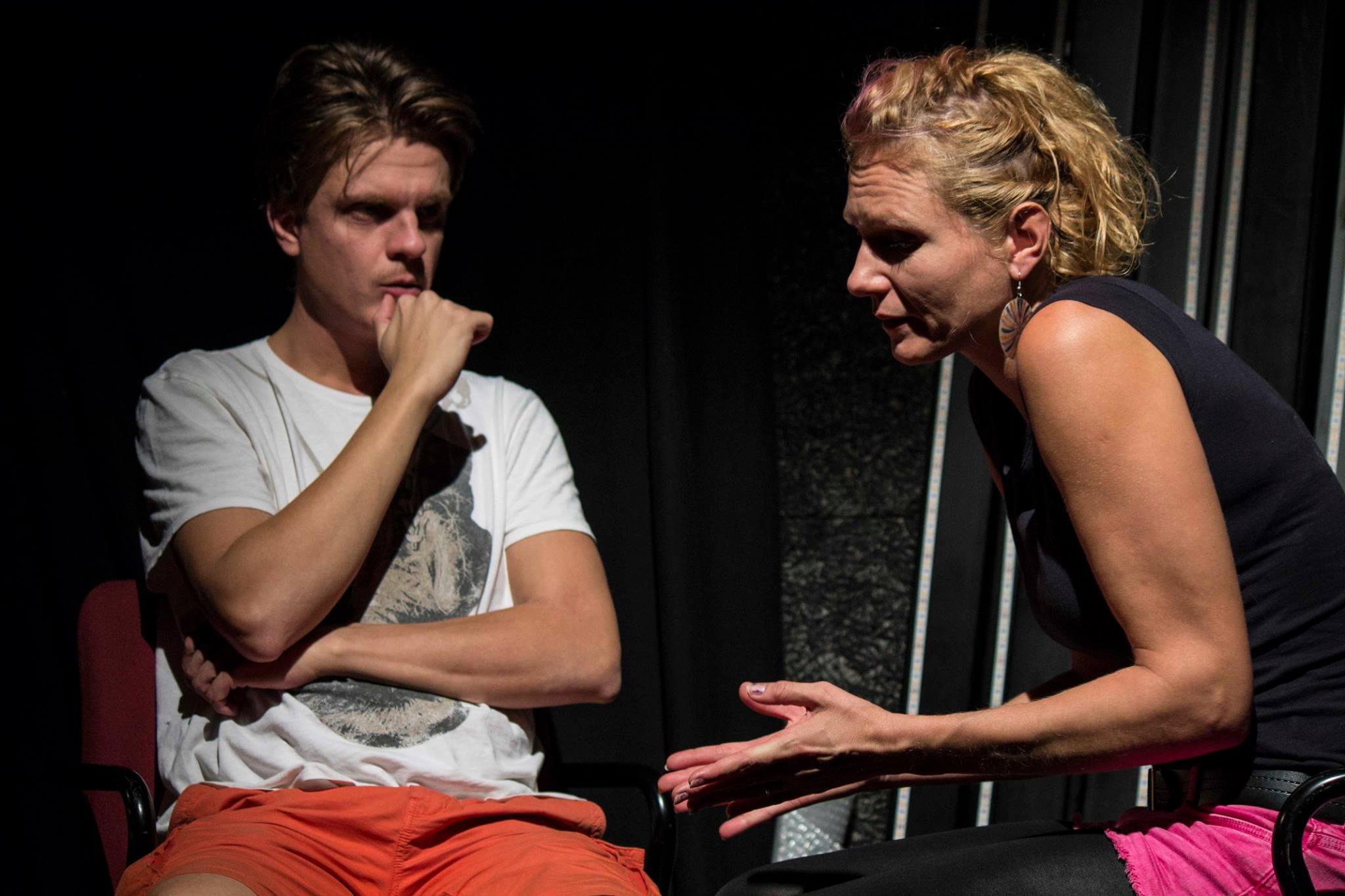 How can we know if we are in love or we only have a crush on somebody, fancy another person, or just feel lust? Most of us know it by being able to make comparison after more stories, but what about adolescents who are experiencing this for the very first time?
Who can I listen to in these cases; my family, the community, the media, films, books, the internet, or myself? If myself, than my feelings or my thoughts? Or do they differ at all?
Many questions that our characters face. The participating students
can help them to take decisions, through which they can stay true to their own "selves". We don't know the right answers, but in safe environment we can try out how things turn out, if we listen to our own feelings.
Age group: 15-18 years old
Actor/teachers: Erzsébet Jelinek , Krisztina Bakonyvári , Balázs Kroó,  Zoltán Meszlényi- Bodnár, Norbert Varga
Facilitator: Zoltán Meszlényi-Bodnár
Director: Zoltán Meszlényi-Bodnár
Other collaborators: Antal Bálint, Bódi Zsófia, Bódis Dániel, Jozifek Zsófia, Meszlényi-Bodnár Zoltán, Róbert Júlia
Time frame: 180 minutes
The Nerd:

The focus of the TIE programme is the phenomena of being a "nerd" or "geek" and having to face with marginalization and exclusion as a result of that. The protagonist of the drama is called Niki, a 16 years old "know all", talented, hard working athlete with excellent school performance. The teachers appreciate her work, but some of her classmates mock her on a regular basis.
The actor/teachers present this situation as the departure point of the program. How much responsibility the passive participants of the class have in this story? What is a strong enough push effect to become active from passive? Can the passivity be considered as harmful as active bullying? Can it affect against bullying?
Age group: elementary school and secondary school
Actor-teachers: Erzsébet Jelinek, Balázs Kroó, Norbert Varga
Duration: 120 minutes
Genders: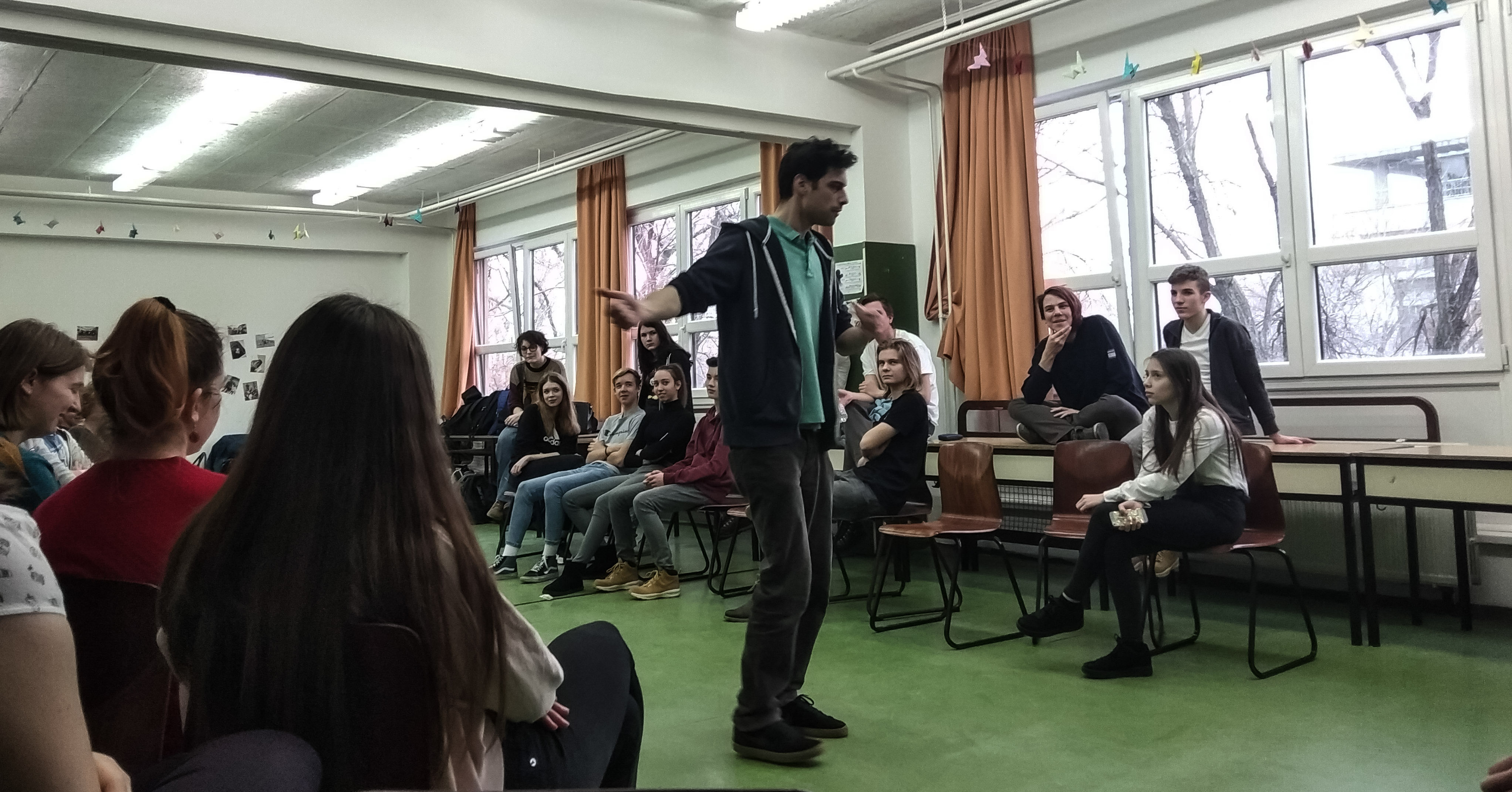 Debate-theater for high school students
Theme, content, description:
Debate-theater about gender expectations. What is allowed as a boy and what is allowed as a girl? What do we expect from each other? What are our gender expectations towards ourselves? Is there anything amongst these imperative in today's Hungary? How do cultural effects influence sexual relationships? What kind of changes would we like to make?
The different perspectives raised during theatrical scenes will be discussed during a moderated debate.
Actors, drama teachers: Jelinek Erzsébet, Kroó Balázs, Varga Norbert
Moderators: Jozifek Zsófia intercultural professional, drama teacher
National curriculum content: Man and society/Ethics – Moral sense, learned behavior, the nature of moral norms, the individuals moral dignity. Bioethics – Family, peer responsibility, loyalty, love; moral values, virtue, happiness, personality, chauvinism, coexistence, sexism, minority; solidarity. Loving relationship. Mating. Peer responsibility. Sexual ethics. Family life. Roles in a family. Crisis in the life of a family.
Duration: 90 min. x 2 occasions
Location: a space provided by the school with an adequate size according to the number of participants
Technical requirements: chairs for all the participants+5
Participants: 1 class
Emergency: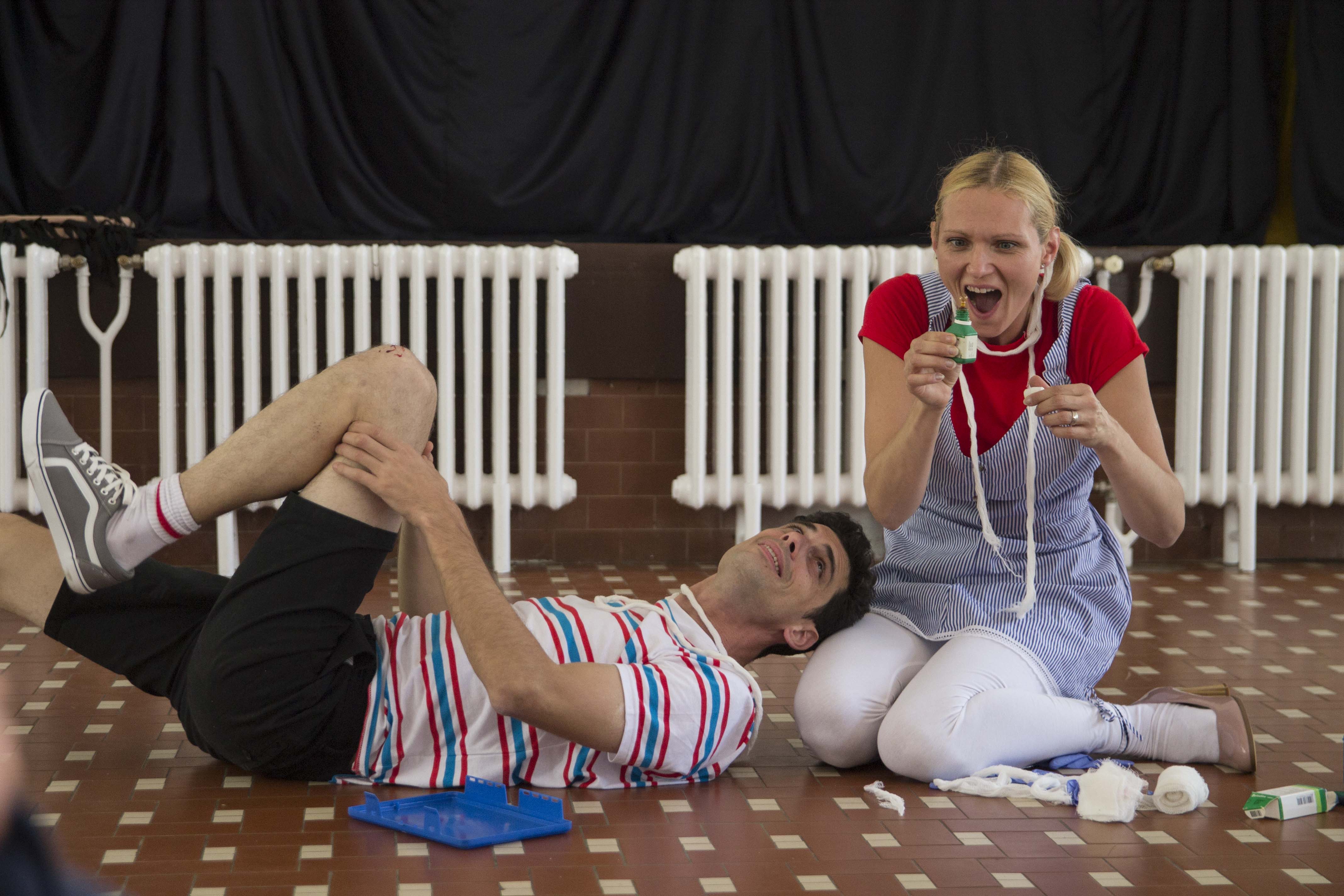 Age group: 7-10 and 4-6 years old
Duration: 80 minutes
Theme, content, description: The clumsy attempts of two stumbling children give the participants a chance to gather their knowledge about the emergencies that may occur around them. When should we be frightened of a disease? How can we strengthen our immune system? How should we inform the ambulance about an accident?
How should we attend to a wound? A health advisor will be present to assist in avoiding any errors. The participants will learn the solutions and get to exercise with the help of playful dexterity games.
Performed by: Kroó Balázs, Jelinek Erzsébet
Director: Meszlényi-Bodnár Zoltán
Professional advisor: Szabó Anikó, health advisor
National curriculum content: environment studies; first aid
Location: class room
Technical requirements: –
Number of participants: 1 class (max. 40 ppl.)
Gummi bear: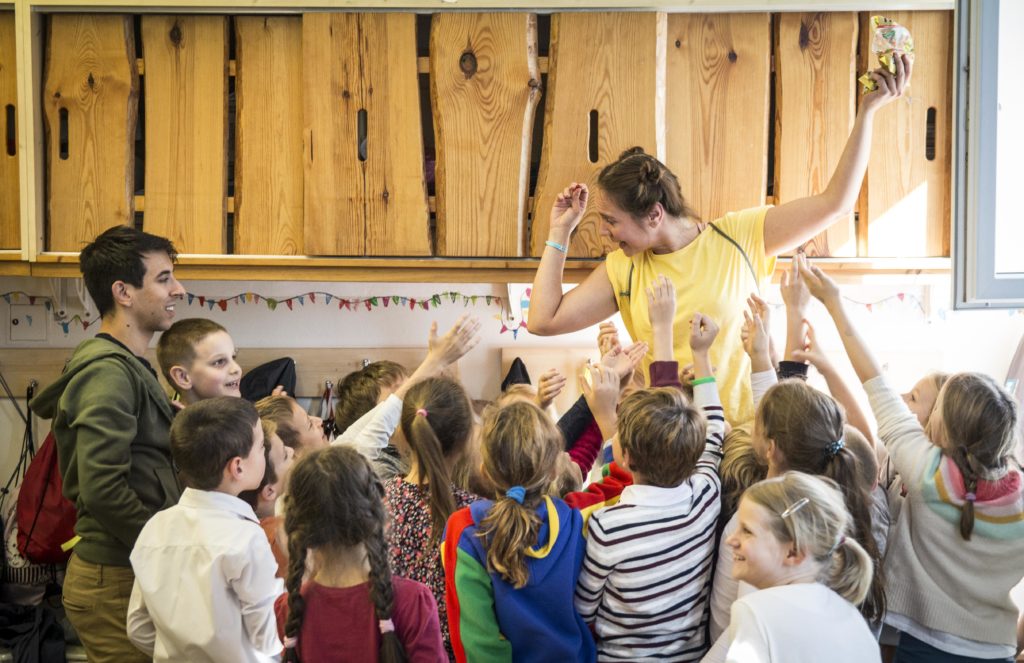 Recommended age group: 9-10 years
We follow the story of a fourth grade class, who are witnesses to school bullying. In the first stage it's hard to decide whether it's teasing, joking around, a silly slip or just and innocent word game. Later on we learn that it's foul play. The adults and teachers have no knowledge of the bullying, therefore the outcome lays in the hands of the participants. How far will the girl with the kind smile go? Will she stop at a one time incident or will the game transform into regular abuse? The TiE program aims is to raise awareness of the power of an active or a passive group, and the consequences of it in similar situations. The TiE program has a preventive goal trying to influence the children's behavior at a point where certain roles and group dynamics have not yet been set, and at an age where characteristically a major abuse within a group has not yet taken place. The program might help the children in preventing exclusion and to choose to take the side of the weak. The high level of interaction plays an important part, the children make decisions as a group, they also play the part of the students of the fourth grade class.
Director: Meszlényi-Bodnár
Performers: Kazári András, Krasznahorkai Ágnes, Meszlényi-Bodnár Zoltán
Location: a classroom
Participants: max. 30 students
Pudding – the proof the eating:

Interactive theater in education performance about the journey of becoming an adult.
For 11-12 graders
The TiE aims to give the viewer participants a chance to discover and find a deeper understanding about coming of age and the concept of a healthy adult personality, they also have the chance to reflect on themselves and their environment, to form their path with more courage, to develop their initiative, and to able to face their own and their families' failures and anxities.
The main character is Jakab. In the first part of the program we see his childhood, in the second part the affects of it on his young adult life. When we get to the open end of the performance, the mediator turns to the viewer participants and initiates a conversation. We clarify the story if there are any questions related to the happenings. Those questions which are relevant, but were not answered within the story, will be discussed. The students can help Jakab realize what he really wants. In the introduction we agreed to look at the stations of his life through the prism of adulthood. What do they think: is Jakab an adult? Why so? Is he doing something wrong, how could he make it right? Is it just up to him? His parents are also to blame, but from what moment do we have stop blaming our parents for what is happening to us, and take responsibility for our actions? The students suggest different alternatives as a solution. He should talk to his parents, both of them or separately, he should talk to his girlfriend Lili, he should go see a psychologist, he should be alone and think. When the number of suggestions become clear, the discussion continues in smaller groups. The participants join a group by deciding which solution they find most adequate for Jakab, he will then try out the suggestions of each group. The situation might not change at one go. The important thing is that we start thinking, facing ourselves and try, and try again. Because the proof of the pudding is in the eating. Change comes after that.