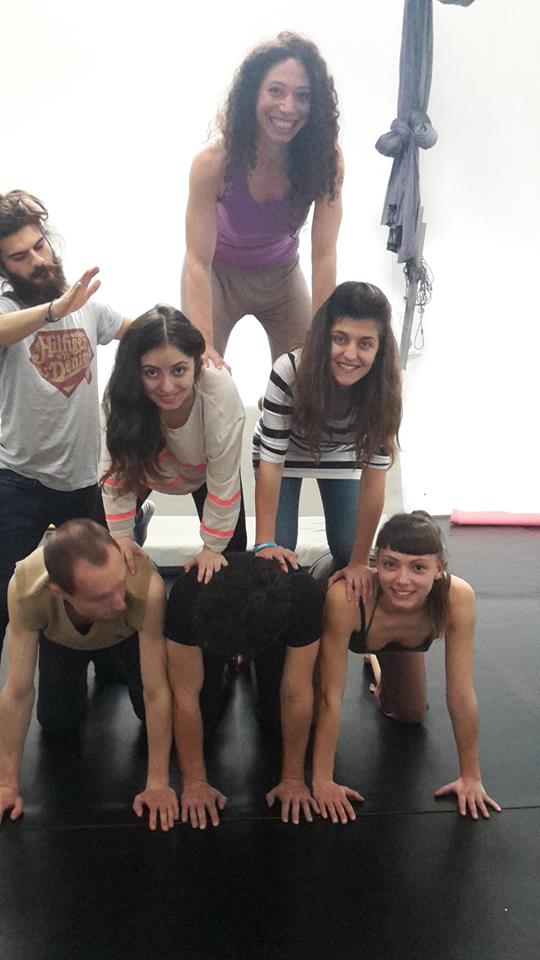 Iva, Nikolai, Savas és Tugba közösségünk külföldi tagjai 2016-17-ben. Egy éves itt tartózkodásuk alatt ismerkednek velünk, a Cserebogár Csoporttal, a drámapedagógiaiával, a színházi nevelés útjaival, Budapesttel és a magyar kultúrával.
A képen első projektjük, a Social S.O.S. keretében megvalósuló szociális cirkusz foglalkozásokra készülnek Simor Ágnes szociális cirkusz szakértővel, Nyárai András kollégánkkal és Györe Ágnes gyakornokunkkal.
Iva, Nikolai, Savas and Tugba are our international members in 2016. In their one year residence they get to know us, the Maybug Group, the drama pedagogy, the ways of theatre in education, with Budapest and with the hungarian culture.
On the pic above they prepearing for their first project, a social circus workshop in the frame of our Social S.O.S. program by the leading of Ágnes Simor social circus expert, with our collague, András Nyárai and our intern, Ágnes Györe.
Nyári táborok / Summer camps
Cserebogár – az Esély Magazin riportja, amelyben önkénteseink is megszólalnak a projekt kapcsán: http://www.mediaklikk.hu/video/esely-2016-07-23-i-adas/
Maybug – in the reportage in Esély (Opportunity) Program about the camp in which our volunteers spoke about the project (in Hungarian): http://www.mediaklikk.hu/video/esely-2016-07-23-i-adas/
Recycled puppets
Our EVS volunteer from Bulgaria, Iva Metodieva has started her recycled puppet creation project in Manó-Vár kindergarten in Hűvösvölgy. "Ме and my family support and strive for an environmentally friendly lifestyle." Children are our future, they are thirsty for knowledge, let's show them that happiness lies not in the games on the computer and in many plastic toys, and the simple things that nature has given us in abundance! The focus of the event will be on children and their sustainable education. Each change you want to see in the world around us must start from the smallest and the example that we as adults give them. The aim of the workshop is to provoke children to create, to experience the magic of recycling, play with natural toys will stimulate their imagination and give flight to their dreams."