Applied drama for cyberbullying prevention
Hogyan és pontosan mire érzékenyítsük diákjainkat az online alkalmazások világában? Mik azok a jellemzők a témában, amik ismeretként megmutathatóak, taníthatóak? Mivel kapcsolatban érdemes inkább együtt vizsgálódni, gondolkodni beszélgetni a tanulókkal és ez hogyan kivitelezhető? Hogyan segíthetnek bennünket ebben a drámapedagógia módszerei?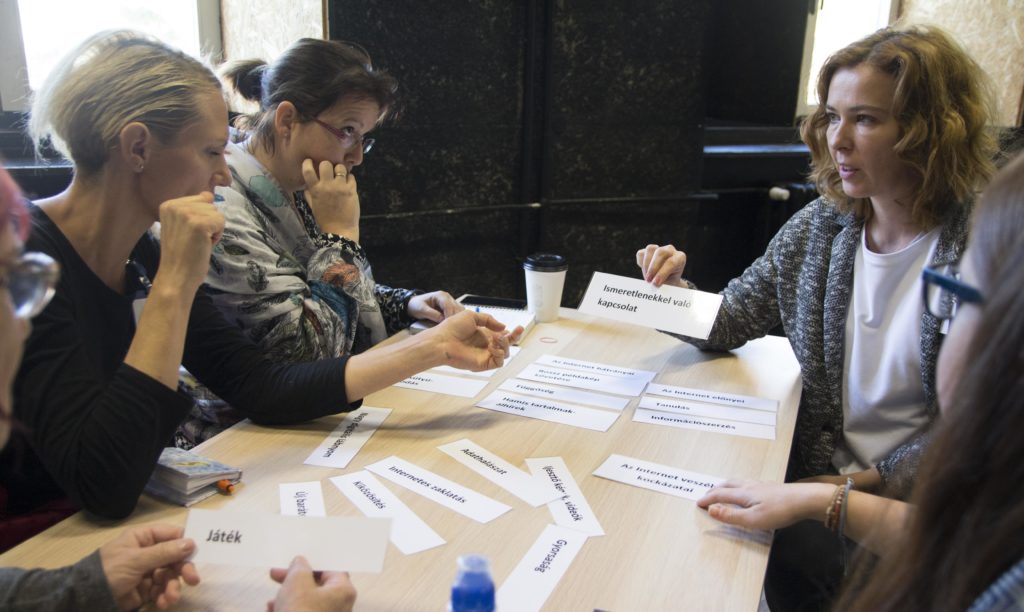 Többek között ezekre a kérdésekre kerestük a választ egésznapos tréningünkön, amelyre pedagógusokat, tanárokat, tanítókat és ifjúsági segítőket, illetve ebben érdekelt hallgatókat fogadtunk, akiket érdekelnek az iskolai zaklatással kapcsolatos témák (bullying) és az online térben történő bántalmazás (cyberbullying) kortárs tendenciái, és szívesen gondolkodnak együtt másokkal és velünk arról, hogy a téma hogyan dolgozható fel az osztályteremben.
Helyszín:
Jurányi Ház, TÁP terem (2. emelet, B épület)
Jurányi u. 1-3., Budapest, 1027
Időpont: 2019 október 12., 9.30-18h
Applied drama for cyberbullying prevention
"Applied drama for cyberbullying prevention" is an international project bringing together organizations from Poland, Hungary and Slovakia. All the organizations work with applied drama or/and applied theatre. The organizations all see cyberbullying as an important issue to work with. In this project we have developed a training module for teachers. Our specific goals were: improving teaching competences (at least 3 new techniques), expand knowledge about cyberbullying (also by reading our workbook), increasing motivation for taking part in other trainings in connection with non-formal education.We organized a test of the training module at every organization's local context, thus the three collaborating organizations implemented their training modules in the frames of a commonly organized international training event. The meeting gave us the opportunity to learn and exchange with partner organizations facing similar challenges. Besides the target group of teachers we reached youth workers and psychologists. We realized an online video about the international training that is available with Slovakian, Polish, Hungarian and English subtitles here:
The partners:
Association of Drama Practitioners STOP-KLATKA (Poland) – Coordinator
The Association of Drama Practitioners STOP-KLATKA consists of passionate people working for social change by using the Applied Drama method and teach working with drama.
We use drama in such areas as education, prevention, rehabilitation, developing interpersonal, social and civic skills, preventing discrimination and exclusion as well as building ties within local communities. Since 2002 we carried out over 40 drama-based projects, reaching over 23,000 people.
The Association also promotes, popularises, and teaches Applied Drama method. We organise drama courses and workshops, international conferences and forums for drama practitioners, publish materials and certify drama coaches and supervisors. Over 2,500 people from all over Poland have participated in our courses, which use drama in group work.
website: http://stop-klatka.org.pl/
EduDrama (Slovakia)
EduDrama' s aim is to promote Drama in Education in all types and levels of schools and educational establishments beside application of the principle of competence and proficiency of work with children. They took part in international projects with: Association of Czech Drama Centres, DAMU Prague, JAMU Brno, OU Ostrava, International drama education association, Kava Budapest, Fidea Finland and others.
website: http://edudrama.sk/
The project was funded by Visegrad Fund.