WOE – Working on employability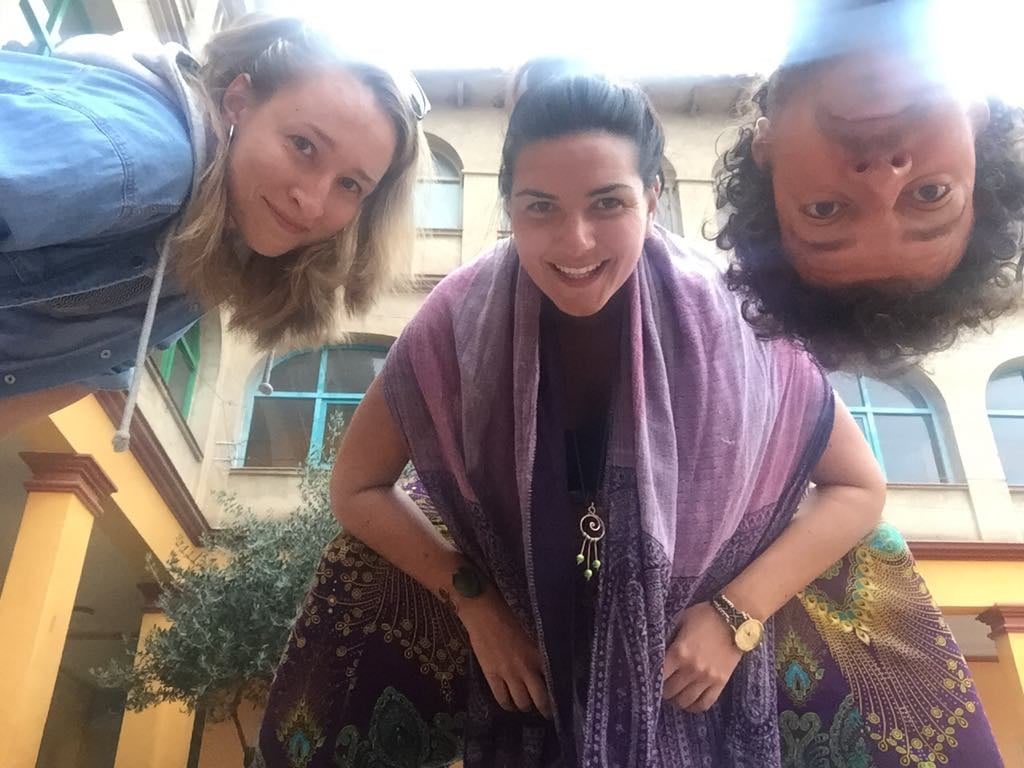 A PROJEKTRŐL röviden:
A projektben egy nemzetközi képzés valósult meg 2019 őszén Spanyolországban, amelyre a Nyitott Kör három résztvevőt delegált. A képzés során a résztvevők helyspecifikus performanszokat hoztak létre, és ezek adaptációin dolgoztak saját gyakorlataik és szervezeteik számára. A tréning eredményeképpen jön létre Velkám Központ című foglalkozásunk, amely 2020 májusától lesz elérhető középiskolai osztályok számára.
TÁMOGATÓK
A projektet az Európai Bizottság támogatta. A leírásban megjelentek nem szükségszerűen tükrözik az Európai Bizottság nézeteit. 
RÉSZLETES LEÍRÁS (ANGOLUL)
Dates: From 22/09/2019 to 29/09/2019
Place: Llinars del Vallès, Barcelona. SPAIN
Partner organizations:
1. EUROACTIVA-T (Spain) – hosting, coordinating
2. MERAKI (Croatia)
3. ASOCIACIJA "SKEPTISKAS JAUNIMAS" (Lithuania)
4. NYITOTT KOR EGYESULET (Hungary)
5. SOUKROMA VYSSI ODBORNA SKOLA SOCIALNI, O.P.S. JIHLAVA (Czech Republic)
6. CENTER FOR PERSONAL AND CREATIVE DEVELOPMENT PERCIPIO (Republic North Macedonia)
The overall aim of this Training Course has been to widen the cultural capacities of the participants and the development of the ability to insert and transform both the labor market and their own social environments. 
Specific objectives:
To promote the inclusion of youth in society through active participation in communities
To promote the Erasmus + program and opportunities to improve the situation of youth employment, the spirit of entrepreneurship and the initiative itself
To create spaces for the exchange of experiences / ideas of projects and to motivate participants to become disseminators of the multiplier results of Projects
To create an atmosphere of good coexistence between people who represent different cultures, exchange principles and practices of participation
To promote the empowerment of young people through non-formal education
Main contents and activities of the project:
Reflect and link work with youth, community work and the arts for a change complex social.
Provide young workers and leaders with new skills to use ways of artistic expression in his work with young people
Develop creativity, improvisation, creative conflict resolution and both verbal and nonverbal communication.
Create, represent and involve communities through participatory, sensory and theater immersive
Establish a connection between youth and the community. Create a network between like-minded NGOs and people interested in long-term cooperation term in the field in which the project is developed
Develop follow-up projects for young people, which will take advantage of new knowledge and skills acquired during the training course
Artistic methods in order to improve performance in the learning, provide self-empowerment and improve self-esteem, promote social and civic skills, increase creativity and increase cultural awareness and expression
The project was funded by the Erasmus+ Programme of the European Commission.