Youth workers hunt learning
The Cluj-Napoca Volunteer Centre has implemented between July 2014 and January 2015 the "Youth workers hunt learning" project, under the Erasmus+ Programme. The general aim of the project was to create a context that will facilitate the improvement and development of competences for the youth workers involved, competences related directly to using nonformal education methods in the context of EVS projects.
The participants to the project took part in a 3 weeks job-shadowing hosted by the Cluj-Napoca Volunteer Centre in Romania. The learning stage combined theoretical aspects (related to nonformal education and volunteer management in the context of EVS projects) and the practical learning opportunities, both in the host organizations and as part of the CONNECTOR event organized by the Romanian National Agency (19-23 November 2014).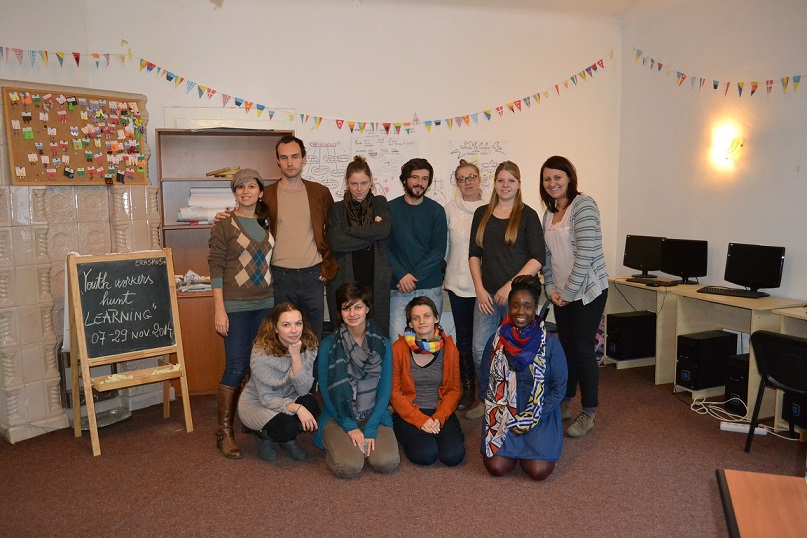 The concrete results of the project include:
– 9 youth workers have developed competences relevant for EVS project management and EVS volunteer management;
– 8 youth organizations (FERSO – Poland, Europe Gemeinsam lernen & leben eV – Germany Nyitott Kör Egyesület – Hungary H2O – Associação of Jovens of Arrouquelas – Portugal, Hammersmith & Fulham Volunteer Centre – UK, Nadejda Sdrujenie CRD – Bulgaria , Socialinis veiksmas – Lithuania Insight – Italy) and one public institution (Lievardes Municipality, Latvia) participated as partners and have improved the competences of their human resources;
– more than 87 working hours during the 3 weeks of the job shadowing stage;
– participation in 7 workshops focused on nonformal education methods included in Connector and in the public performances for each of these methods organized in the local community: contemporary dance, labyrinth theatre, forum theater, origami theater, concretization with action methods, environmental art, socio-educational animation for human rights;
– online photovoice exhibition on the topic of non-formal education with the participant youth workers – the exhibition is available on Cluj-Napoca Volunteer Centre's Facebook page (http://tinyurl.com/photovoice-CVCN) and includes 24 photographs illustrating non-formal education from the perspective of each worker;
– 3 workshops organized by the participant youth workers for 8 EVS volunteers hosted by the Cluj-Napoca Volunteer Centre (on the topics of: conflict management, intercultural learning and Youthpass);
– 8 dissemination events (workshops, presentations, etc.) organized by the youth workers in their own communities, after finishing the job-shadowing stage (December 2014
– January 2015); among the events organized were: photovoice exhibition organized in Bulgaria with participants in the National Competitive Debate (Sofia Debate Association); organizing a labyrinth theater workshop for EVS volunteers hosted by FERSO, Poland; using origami to promote European Voluntary Service; organizing presentations and meetings with active youth workers etc .;
– Developing the capacity of our organization (Cluj-Napoca Volunteer Centre) by positively using the expertise acquired in EVS projects for the benefit of those interested.
The "Youth workers hunt learning" project was funded by the European Commission through the Erasmus+ Programme administered in Romania by Agentia Nationala pentru Programe
Comunitare in Domeniul Educatiei si Formarii Profesionale.