ACTUALITY – ARTISTIC SUMMER TRAININGS 2016
For further information, click on the pic! 😉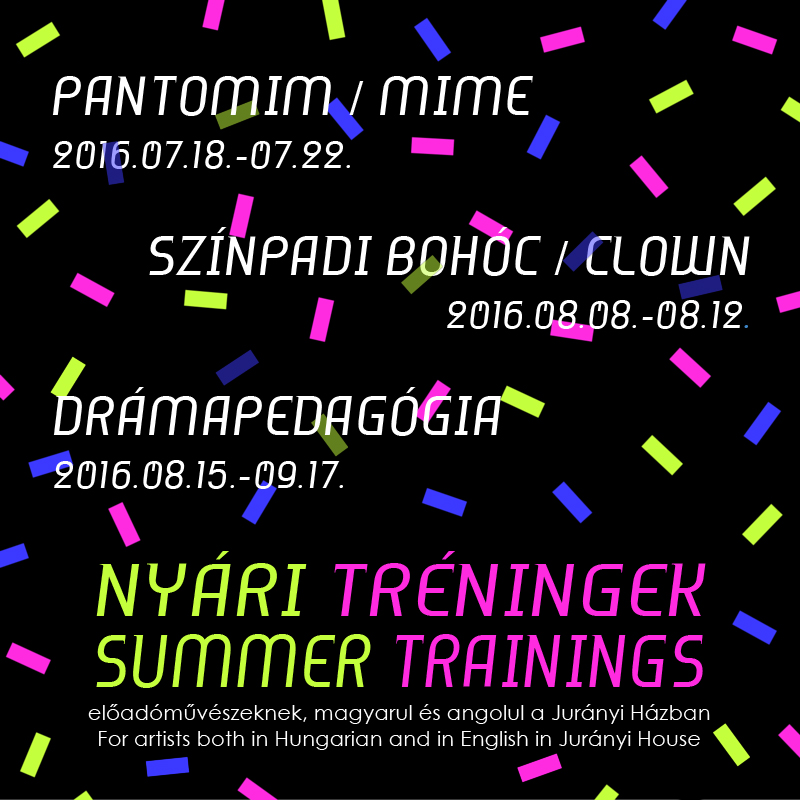 Game-Theatre-Education
Our mission is to improve communities and competencies through theatre in education, open new aspects particularly for young people to become dynamically balanced persons with themselves, their enviroment and the society. We would like to assist them to be able to help each other, deal with their conflicts, and focus their energy to a common goal. Our activites primarily take place in the Central-Hungarian Region, but we travel to anywhere in the country and also abroad if we are invited.
Our activities
Theatre in Education
Ropedance (for youth aged 13-17 about power based on the story of Antigone)
Knots (for youth aged 13-15 it is a perevention about pathogenic effects of the dysfunctional family relationships)
To Forbid the Flower… (for youth aged 13-14 about the importance of emotions and problems about early sexuality)
Edward Bond: Tune (Hungarian premiere – 2014)
Drama lessons (for youth aged 12-18)
Drama in Action project
Courses (theatre, fine arts, juggler)
Maybug – drama group for disabled youth
Clown performances
Trainings (for youth and for pedagogues)
Class trips (for youth aged 10-18)
Our headquarters is located in a picturesque town called Szentendre, near to the capital, but we maintain most of our activities in Budapest.
Our office and rehearsal space is located in the centre of Buda side of the capital in the Jurányi Production Incubator and Community House. Jurányi is a Contemporary Art Centre and also a creative art and intellectual base, which serves as home for most of the significant independent performers.